I am changing up my what I wore to include Mouse from now on. I want to document her style as much as I want to push my style.
Mouse is really starting to get into her own when it comes to style. She has always had her own idea of what she likes and doesn't like but she never voiced them when it came to school clothes. This year she was very admit in what she wanted to wear. I think the days of matching hairbows and jumpers are diminishing.
Ok she did let me add one matching hairbow to this outfit.
Boots, Sweater & Dress: Thrifted
Bow: Made by me
This is the style she likes more a bit punk rock
Tank and Shirt: Target
Shoes, Necklace and Jeans: Thrifted
I picked up a new shirt this past month and finally got it mixed into my work wardrobe.
Shirt: JCPenny
Tank: Target
Skirt: Mom's closet
Boots: Bass Outlet
Which reminds me Bass Outlet in Minnesota is having their buy 1 pair of boots get 2 free sale again!! We are headed there tonight. I wear my boots so much that by the time the season is up I need a new pair of black ones for sure.
What are you wearing? Find out what the rest of blogland is wearing by linking up with the
Pleated Poppy
(What I Wore Wednesday) &
One little Momma
(What Kids Wore Wednesday)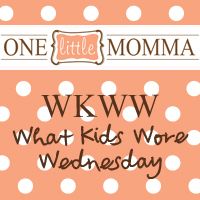 ~ Cassi
Pin It