I am loving the red skirt I made this summer. I think I wear it every other week. This fall I am looking for other ways to wear my skirt that are less nautical. Here is my stab at red with brown.
Skirt: made by me
Sweater and T-Shirt: Target
Belt: Thrifted
Mouse also got dressed up this Sunday for church. I do love that she wants to have her hair done this year. She wanted wavy hair for church so the night before we braided it in three sections.
Her new skirt has little deers on it, so cute!
Skirt: JCPenny
Shirt: Target
Boots & Belt: Thrifted
What are you wearing? Find out what the rest of blogland is wearing by linking up with the
Pleated Poppy
(What I Wore Wednesday) &
One little Momma
(What Kids Wore Wednesday)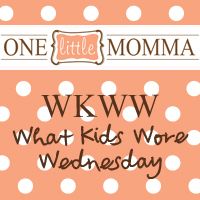 ~ Cassi
Pin It